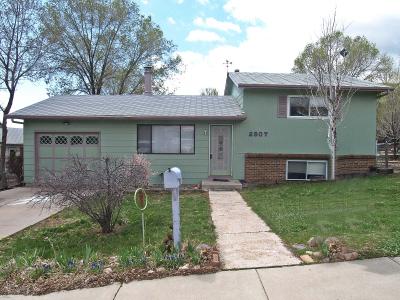 West Colorado Springs Real Estate
West Colorado Springs is truly inspirational. From the top of Pikes Peak, where Katherine Lee Bates developed lyrics for her song "America the Beautiful," to Old Colorado City, the Front Range, the Garden and of the Gods and beyond, West Colorado Springs is known to infuse those who visit with an appreciation for the beauty of the area and those who live here with gratitude that they call it home.
The great outdoors are yours to explore when you buy a home in West Colorado Springs and here you will find adventures in the natural landscape that can rarely be matched. In West Colorado Springs you can enjoy a 360-degree panoramic view from Pikes Peak, whose summit is at an altitude over 14,000 feet. This awe-inspiring vista can be accessed by traveling the Pikes Peak Cog Railway or the Pikes Peak Highway, but for those who prefer to get there on foot the Pikes Peak Ultimate Challenge leads runners over 23 miles to the top before descending. For activities that take advantage at lower sea levels, the Crystal Reservoir is a favorite destination for hikers and fishing enthusiasts.
Just north of Manitou Springs, residents can spend time at The Garden of the Gods. Dazzling the eye with a variety of colors and formations, The Garden of the Gods is a park that is extremely popular for nature and geology enthusiasts who find the Visitor & Nature Center's educational exhibits and tours are great ways to spend a day with the family. Hiking, biking and horseback riding trails lead you through the park and if you are brave enough, rock climbing areas are available, too. Nearby The Garden of the Gods is the Rock Ledge Historic Site where an open-air museum recreates life in Colorado Springs through various time periods. Rock Ledge Historic Site's walking tours of pioneer and Native American life remains a popular past-time for West Colorado Spring residents and visitors.
By traveling even further west of Colorado Springs you find the communities of Mountain and Cripple Creek, where the Florissant Fossil Beds National Monument displays remnants of redwood trees, where you can tour old gold mines, raft on one of the pristine rivers, or even spend time at several casinos in the area. Throughout West Colorado Springs you are sure to find a variety of attractions and activities that compliment the many shopping and dining options located throughout the area.
If you are interested in finding a great home for sale in West Colorado Springs you will need the guidance of a local real estate expert like Elizabeth Palmer. Elizabeth knows the West Colorado Springs real estate market and will be happy to help you and your family to find the right home for sale in West Colorado Springs for your needs. Be sure to contact Elizabeth at any time to learn more about the communities and real estate options in West Colorado Springs!
West Colorado Springs Homes for Sale
Looking for West Colorado Springs homes for sale? Search our local listings database for access to listings in West Colorado Springs and surrounding areas. Whether you want to buy or sell West Colorado Springs, Colorado real estate, you can browse through properties or find a wide variety of real estate resources available on this website.
West Colorado Springs Real Estate Agent
If you are looking for a West Colorado Springs REALTOR®, choose Elizabeth Palmer! As your West Colorado Springs real estate agent, Elizabeth Palmer can assist you with all of your home buying and selling needs. I can provide you with access to the local listings database and offer our experience and knowledge to make the home buying or selling process easier for you and your family. Contact Elizabeth Palmer today to get your home search started!